Palliative Care Formulary (PCF5)
5th Edition (UK)
ISBN: 978-0-9552547-9-6
Editors:
Robert Twycross
Andrew Wilcock
Paul Howard
The fifth edition of our flagship publication (Palliative Care Formulary) is now available. As well as including updated monographs, this new edition also contains selected information from Symptom Management in Advanced Cancer, which will be discontinued towards the end of 2014.
Since the publication of PCF4 in 2011, every drug monograph has been reviewed and updated. Two new chapters cover variability in response to drugs (replaces chapter on Cytochrome P450) and the drug treatment of pruritus. To aid comparison, several sets of drug monographs have been streamlined into single generic monographs, notably Bisphosphonates, Cannabinoids, Haemostatics, LMWH, Opioid antagonists, Psychostimulants.
Although written primarily with cancer patients in mind, PCF5 contains specific material relating to several other life-limiting diseases e.g. COPD, congestive heart failure, renal failure, and Parkinson's disease. PCF also includes a number of Quick Prescribing Guides and Quick Clinical Guides.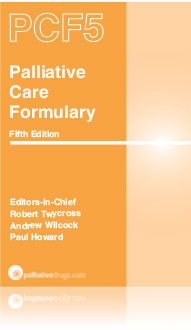 Discount available on purchase of more than 10 books. Please e-mail for details.
What People Say
PCF [is] a core text for the specialty and has no serious rivals.
Palliative Medicine
The information is up to date and prepared with extreme care. This handbook should be available to staff involved with inpatient consultation, inpatient units of care, and home visits.
Journal of Pain and Symptom Management
First class. Highly recommended.
International Association for Hospice and Palliative Care
Sample Chapters